A sense of Craft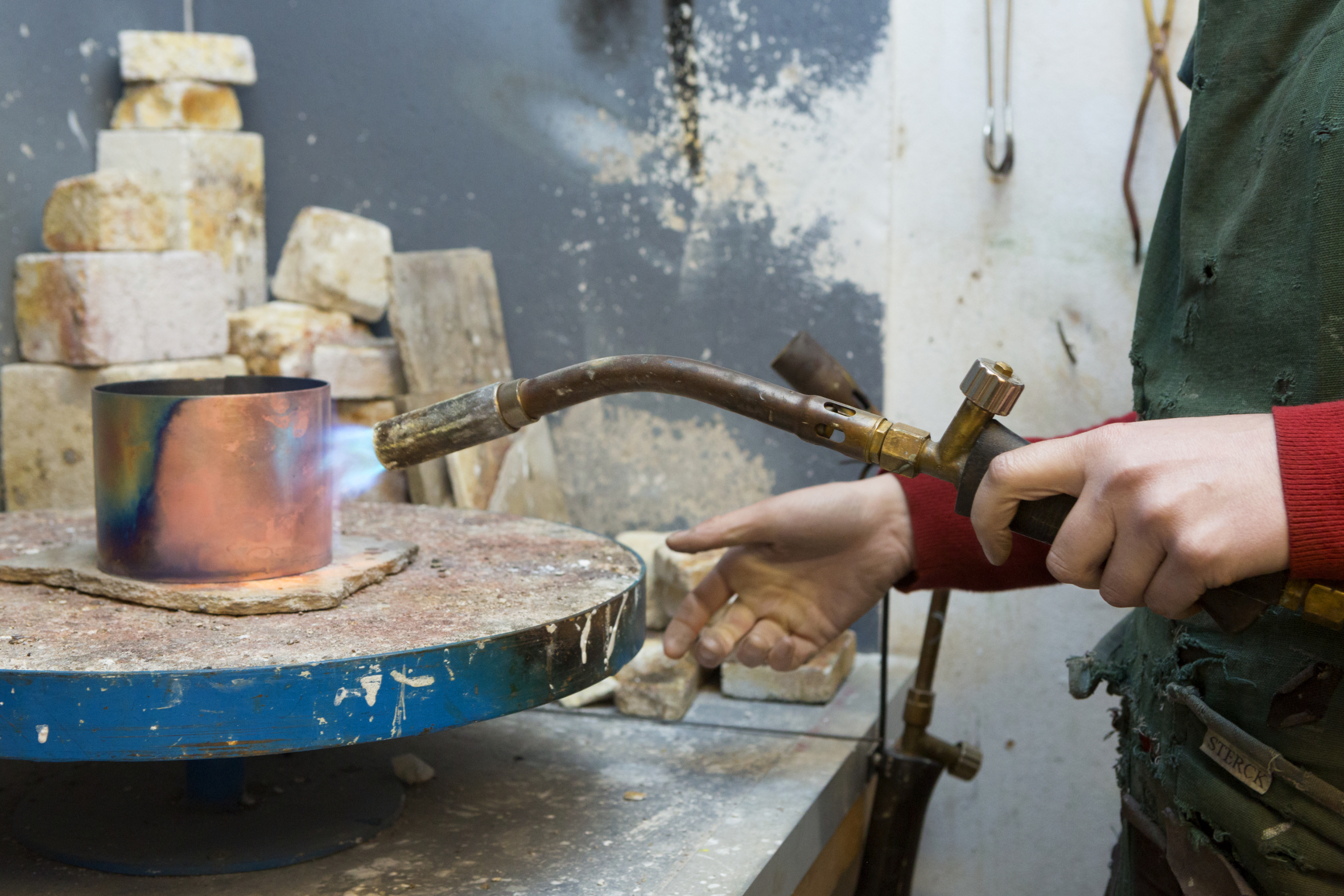 In many respects Material Matters is concerned with the importance of making. Craft is a thread that runs through the fair, starting with this year's headline sponsor, the high end, British lighting manufacturer,
Bert Frank
. The brand will mark its tenth anniversary with new product launches that celebrate the considered use of exceptional materials, created from its factory in Birmingham. It will also celebrate its birthday by joining forces with the fair to throw one of the biggest parties at this year's London Design Festival.
On the top floor, designer-maker Ana Bridgewater (also known as
Abalon
) creates extraordinary lighting sculptures from Corallo porcelain, while
Mixed Metals
– a collaboration between leading metal artists Juliette Bigley and Simone ten Hompel – is back at the fair with an interactive installation.
Goldfinger
is an award-winning social enterprise that designs and crafts timeless furniture and homeware, using reclaimed and sustainable materials. Its profits support the Goldfinger Academy, which creates pathways to design and craft careers for young people in the local community, and the People's Kitchen, a monthly community meal cooked from surplus ingredients.
Craftsmanship has always been vital to
Gareth Neal
's practice but its definition has often stretched beyond the handmade into the digital. The studio will be showing ODC 3D on the fair's first floor. The work, produced in collaboration with The New Raw and funded by The Better Factory though an EU grant, promises to push the boundaries of traditional 3D printing and uses a three times recycled polymer.
Bill Amberg Studio
has long been one of the most important names in leather. Last year, it teamed up with the Knepp Estate, renowned for its ground-breaking rewilding project, to design and manufacture a sustainable furniture collection. The pieces use materials sourced from the estate – leather produced from the longhorn cattle and the deer roaming the Sussex-based project.
Images from left to right: Behind-the-scenes in the Bert Frank factory; Mixed Metals at work in their studio; Bill Amberg Studio x Knepp Estate, photo by David Cleveland.
The Exhibitors looking to Nature


Designers and research studios are finding ways fascinating ways to work with nature at this year's fair. bioMATTERS, for instance, specialises in 3D printing and robotic fabrication techniques for living materials. It develops solutions for 'grown-living design' for product design and architecture applications, and fabricates a wide range of biomaterials using clay, mycelium, microalgae, and bacterial based dyes.

Silklab is an interdisciplinary materials science lab from Tufts University, in Greater Boston, which focuses on the potential and properties of silk fibroin. The studio will be displaying the possibilities of its material.

Material Magic comes from the Innovation Hub East-Groningen and Dutch designer Jack Brandsma. It investigates how binders like magnesium and potato starch can be combined with hemp fibres to create products.

And on the top floor, Mycelium Lab creates highly sustainable, bio-based wall covering panels using mycelium. Each wall panel showcases unique textures captured at different stages of the mycelium growth cycle, resulting in some fascinating designs. The company will be presenting part of its inaugural collection, Fumo Panels.

Image: Jack Brandsma's Material Magic.
New ways of working with waste


There will be a plethora of designers and brands re-evaluating materials and finding new ways to work with waste at this year's fair. On the top floor, for example, emerging designer BC Joshua will be showing a seat (created with designer Ella Doran) and lighting (designed in collaboration with Purva Kundaje) made from a newspaper pulp blend. Hagen Hinderdael and Novavita Design have joined forces to develop a new product collection made from coffee waste, milk packaging, and fermented sugar.

Planq will launch Rezign® materials – a new collection of materials made from textile waste such as post-consumer denim, army clothing, suits and white denim. This is combined with bio-based resources like flax and jute coffee bags to create veneer, multiplex board, and flex sheet materials.

Returning exhibitor Solidwool will showcase composite materials made from the Herdwick and Welsh Mountain sheep. It will also display a new Hembury side table. Elsewhere, Yair Neuman repurposes discarded lenses from the eyewear industry to create a new material for his products. The designer is set to unveil an assortment of pendant, table, and wall lights, alongside his Delerex® sunglasses frames.

On the fair's second floor, Hydro will be illustrating the untapped potential of recycled aluminium, showing Bello!, a new lightweight bench manufactured from nearly 90 per cent of the material and designed by Lars Beller Fjetland. Around the corner, The Tyre Collective is a clean-tech start-up spearheading the capture and monitoring of tyre wear, accelerating the shift towards true zero-emission mobility. Tyre wear is the second-largest microplastic pollutant in our oceans and a major air particle matter pollutant. The studio is developing the first on-vehicle device to capture particles at the source. Once captured, this pollution can be upcycled into a variety of applications, creating a closed-loop system.

Material Matters 2023 is not one to miss… register for the fair today.

Image: Yair Neuman's discarded lenses.
Introducing Headline Sponsor Bert Frank


We are delighted to announce that this year's headline sponsor is Bert Frank–an award-winning British lighting brand that was founded by designer Robbie Llewellyn and manufacturing specialist Adam Yeats in 2013. It will mark its tenth anniversary with new product launches that celebrate the considered use of exceptional materials as well as reimagining some of its most popular designs.

The new Rinato range, for example, has been inspired by early twentieth-century glass holophone refractors and Art Deco geometric forms. It combines solid brass, steel, glass and refined leather details to produce a classic mid-century design for the contemporary market.

Together these launches signal an exciting new chapter for the brand, which has championed quality, craftsmanship and innovation since its inception.

Bert Frank is a brand that understands the importance of the marriage between design and high-quality materials, creating products built to last. The company's space on the second floor promises to be fascinating–combining product and process–and we are joining forces to throw one of the best parties at this year's festival.

Image: Bert Frank's Beran Table Light and Beran Pendant Lights. Photo by Yeshen Venema.
Tanja Kirst on her organic series, 'Planted'


A highlight for this year's edition of Material Matters will be 'Planted' - a range of unique textile pieces by Copenhagen-based designer Tanja Kirst.

The pieces will be installed on the ground floor of Bargehouse, Oxo Tower Wharf, forming a beautiful entrance experience for all visitors. The ten pieces - made by combining hemp with citrus yarn created from cellulose from Italian orange and lemon peel, pineapple yarn and seaweed yarn - form a new collection for Kirst as she continues to be fascinated by the qualities of hemp.

'I've championed the use of hemp over the last seven years', says Kirst. 'It has many qualities and requires a curious mind to unlock its potential. It has been under-used in interior design, and I see it as my mission to re-think how this fantastic material could be used.

Supported by the Danish Arts Foundation for its appearance at Material Matters 2023, the Planted series is the first time Kirst's work has combined hemp with other materials. The pieces are hand-woven and foretell the commercial development of a new sustainable textile; she is working with Massimo Copenhagen to develop a range of rugs using the knowledge acquired by creating the ten Planted pieces.

Planted asks the simple question: can oranges, seaweed and hemp be transformed into textiles without compromising aesthetics? For her London debut as a textile designer that should be watched, the answer from Tanja Kirst is definitely 'yes'.

Image: Tanja Kirst, Planted. Photo by Nanna Navntoft.
Material matters returns in september 2023


The Material Matters fair will return to Bargehouse at Oxo Tower Wharf, as part of London Design Festival, from 20-23 September. It's shaping up beautifully – and you can book your free ticket now.

We have some returning exhibitors, such as recycled aluminium giant Hydro, HagenHinderdael, Mixed Metals, and Solidwool, which will sit alongside brands new to the event, including The Tyre Collective, which captures and upcycles tyre pollution, Novavita Design that specialises in giving materials a new life, and porcelain expert Ana Bridgewater also known as Abalon. Meanwhile, the Wood Awards will once again be revealing its shortlist of the best buildings and products made from, well, wood at gallery@oxo. You can peruse the growing list of exhibitors now.

It's all very exciting. If you are interesting in exhibiting please contact us at: hello@materialmatters.design.

Material Matters Collaborates with space10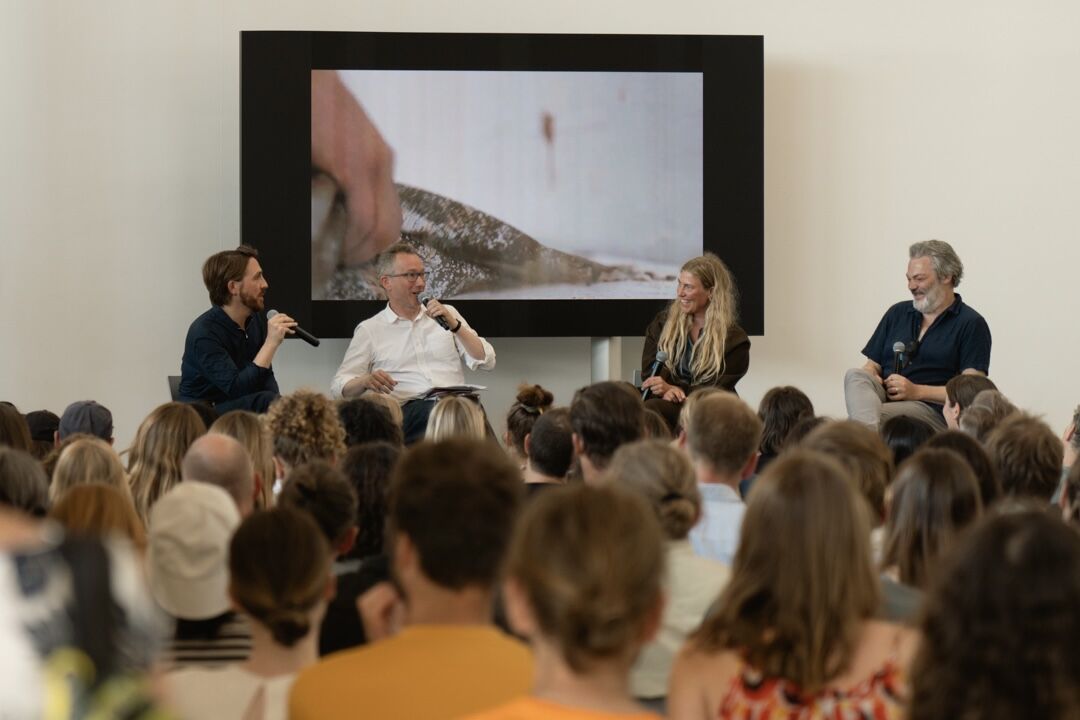 On 8 June 2023, we gathered at Copenhagen Contemporary to collaborate on a half-day symposium with Space10, 3daysofdesign and Office Kim Lenshow.

Bringing together experts and innovative makers in the materials field, Materials of Tomorrow explored the opportunities and challenges of new and existing materials, and how we might apply them to design more sustainable and healthy homes. Together we asked, how can we better understand the materials at our fingertips? And how might this help us apply them in ways that enable people and the planet to flourish?

Space10 has written an interesting summary of the event and a set of useful learnings to challenge how the design and architecture worlds should consider approaching its work with materials.

For non-clickers, the top line on the take-outs is:


Designers need to consider a material's life at the start of the design process

Context needs to be applied to material use, not 'good' or 'bad' labels

The potential of new materials is unknown. Material intelligence is essential

Biomaterials remind us to treat materials as animate, not just a resource

Designers need to collaborate with materials and not prejudge outcomes

This was a truly memorable and worthwhile symposium and a great collaboration. You'll find more high-quality content in September at the Material Matters fair – taking place from 20-23 September as part of the
London Design Festival
.
Register today
.
Image: one of the MoT panel discussions chaired by Material Matters co-founder,
Grant Gibson
Final podcast of the season: Beatie WolfE


In our final podcast of the season we meet Beatie Wolfe – a musician and artist, who has in her time been described as a 'musical weirdo and visionary' and one of the '22 people changing the world'.

In a relatively short career she has: created a 3D interactive album app and a musical jacket; worked in the world's quietest room to develop an 'anti-stream'; fired her music into space; made a documentary with the Barbican; designed an environmental protest piece, entitled From Green to Red, which was shown at the Nobel Prize Summit; worked with people suffering from dementia; and recorded a track for a 12 inch record made of bioplastic, alongside Michael Stipe.

Her latest project, Imprinting: The Artist's Brain, was on show as part of the recent London Design Biennale at Somerset House, and is a sonic self-portrait that involves old-school telephones as well as a thinking cap designed by an iconic tailor.

The theme running through all this is her desire to 're-materialise' music and give it back a sense of 'tangibility and ceremony'.

In this episode we discuss: keeping space rock in her pocket; being self-critical as a child; writing her first songs aged nine; working with renowned tailor Mr Fish; the importance of collaboration; sending her music into orbit; finding the balance between innovation and tradition; her childhood desire to be a ninja; being in a grunge band; the power of art; and the importance of neurologist Oliver Sacks to her career.

Our thanks go to the headline sponsor for this series of the podcast – and the Material Matters 2023 fair – the brilliant lighting specialist, Bert Frank. For more details go to: bertfrank.co.uk